Many children returned to school today. It was quite sweet to see them assembling in their shiny new uniforms. I started thinking about how the first day in primary school is celebrated in Germany. The child is given an enormous cone full of goodies, traditionally sweets and gingerbread and perhaps pencils and crayons which might come in useful at school. I wonder now if they have healthy fruit inside, as sugar is regarded as the new poison.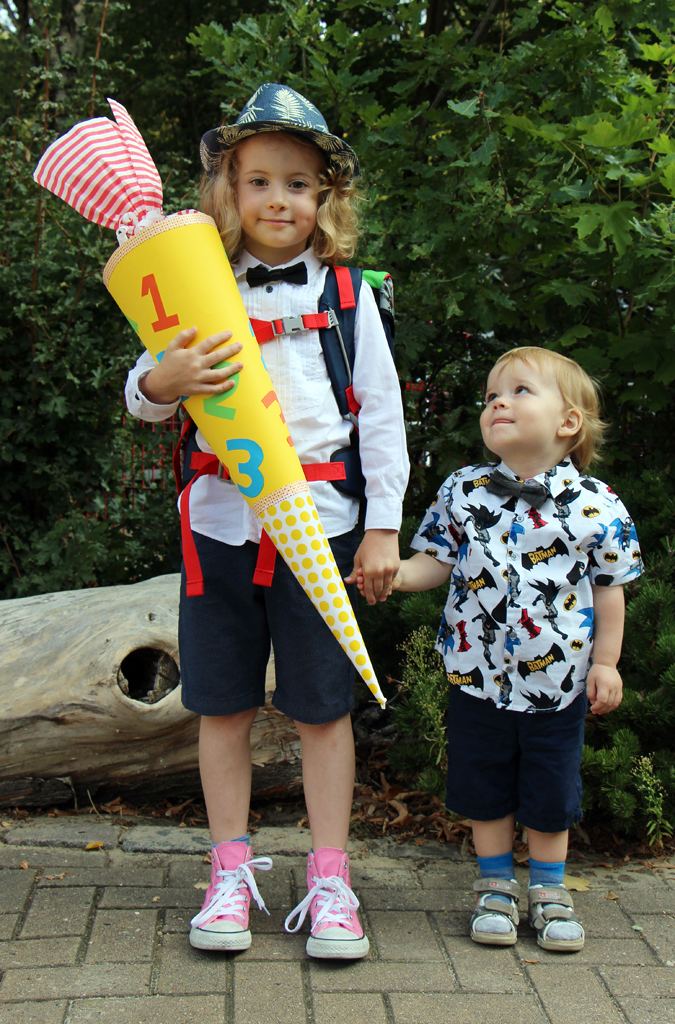 I should say, this is a stock internet image, I don't know who these children are, but they look pretty representative.
I decided to make an expedition to London today to the Tate Britain. But I seem to jinx transport at the moment, so when I arrived at the station I was told that there had been an "incident" at South Croydon and no trains were getting through from Coulsdon to East Croydon. So I took 2 buses to East Croydon, train to Victoria, tube to Pimlico and legged it to the gallery, as I had a timed ticket for 12.00. By the skin of my teeth I made it. I always go for the train before the train, and it does usually pay off. I went to see the Aubrey Beardsley exhibition. I have always admired his work, and went to a previous exhibition (in the 70's??) with my school friend Janet. My father was a great fan of Oscar Wilde and the rather decadent Yellow Book writers, and I think through him, I became very interested in the drawings of Beardsley. At the time they were regarded as shocking, even pornographic. He moved in circles where same sex relationships were openly discussed, even flaunted, and all kinds of boundaries were being pushed. He was influenced by Japanese drawings, again very fashionable at the time.
His drawings for Wilde's "Salome" were pretty scandalous for the time. The blatant sexuality is evident in the whole series of drawings.
He drew posters for theatre productions and he was also very fond of Wagner's operas and used imagery from them. His life was extremely intense: at the age of 7 he had been diagnosed with TB, at the time incurable, so he knew he was in for a short life but a merry one. He died at the age of 25, having made a prodigious amount of drawings. Almost all in black and white. In the exhibition were a couple where he had added colour, but they were not nearly as eye catching.
I like the way he drew borders around many of his pictures. The details are quite fascinating. His publisher always scrutinised the pictures carefully as Beardsley was fond of putting phallic symbols and other suggestive emblems, sometimes half hidden as a candle, or snake. One room at today's exhibition came with a health warning, of the "do not take your maiden aunt in here" type.
So I would recommend a trip to Tate Britain before 20 September, you have to book online of course. I am beginning to be irritated by the endless prior booking. It kind of takes the spontaneity away. But I suppose it's that or nothing. I managed to walk nearly 5 miles today too.