Happy St Patrick's Day! If I were to claim to be anything other than totally English, it would be a little Irish blood, which actually did come out when I did a test on the Ancestry website. 12%, which is about right, as my paternal grandmother was a Miss O'Grady (before marriage I should add.) Allegedly where my originally rather reddish hair came from. But look at Chicago, where they do things in style. I had never heard of this till Richard and Alison moved to Chicago for a couple of years, but this is a sight to behold: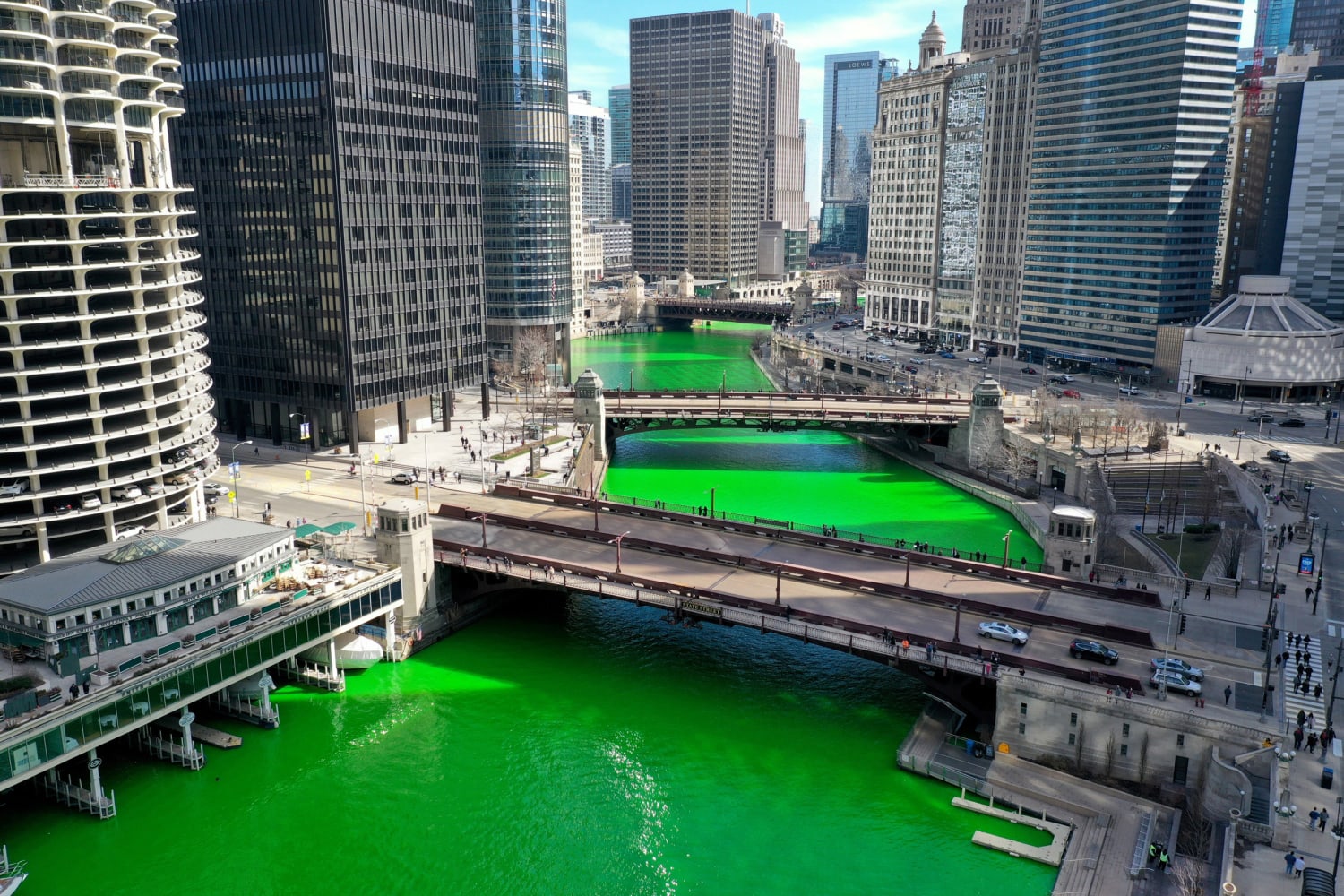 The river is dyed bright green. I assume it is an environmentally friendly dye: Rod was in panic mode over the aquatic life. I guess every other resident of Chicago can lay claim to Irish ancestry.
My rant of the day will be about litter. If I walk up to the newsagent's in the morning, along the grass verge at the edge of the golf course, there is so much litter, thrown out of cars in the main. Bottles, cans, crisp packets, old shoes…………sometimes I see a couple of guys doing a litter pick, and I have done so myself, but I struggle to enter into the mentality of people who chuck stuff around so willy-nilly. I was thinking about children in school. Here we have cleaners and groundsmen who clean up after the pupils. In Kenya, and Japan, and probably many other countries, the children have to clean their own classrooms at the end of the day, and the teacher checks that it is done properly. Amazing how quickly they learn to put rubbish in the bin so the room can be rapidly cleaned at the end of the day and they can go home.
I had to go to Purley Hospital for a routine blood test today. No appointment needed, take a numbered ticket, sit at a social distance, "next please." It was very rapid and very efficient. The nurse was not in full PPE but a fair bit of plastic covering. I asked her how she felt about it: "it gets very hot" she replied.
I heard the Prelude to Bach's cello suite no 1 today. I am not a mathematician, but there seems to be a wonderful mathematical precision to it, as indeed there is to most of Bach's music. Yo-Yo Ma clearly enthralled the Prom audience. I do so hope I can attend a Prom concert this year.