Another incredibly beautiful warm sunny day! We headed off to the Ladybower reservoir, where Rod wanted to try a day's trout fishing. We checked in at the fishery lodge, and got a key code to give access to the track running along the west side of the west branch of Ladybower. I left him selecting different flies to try out, and set off on a walk. I walked alongside the reservoir for a while, and then struck up steeply through the woods to reach a point known as Hope Cross. A cuckoo was calling the whole time. I commented on it to some fellow walkers. "Well he can sing all day because he does no work!" said one of the ladies.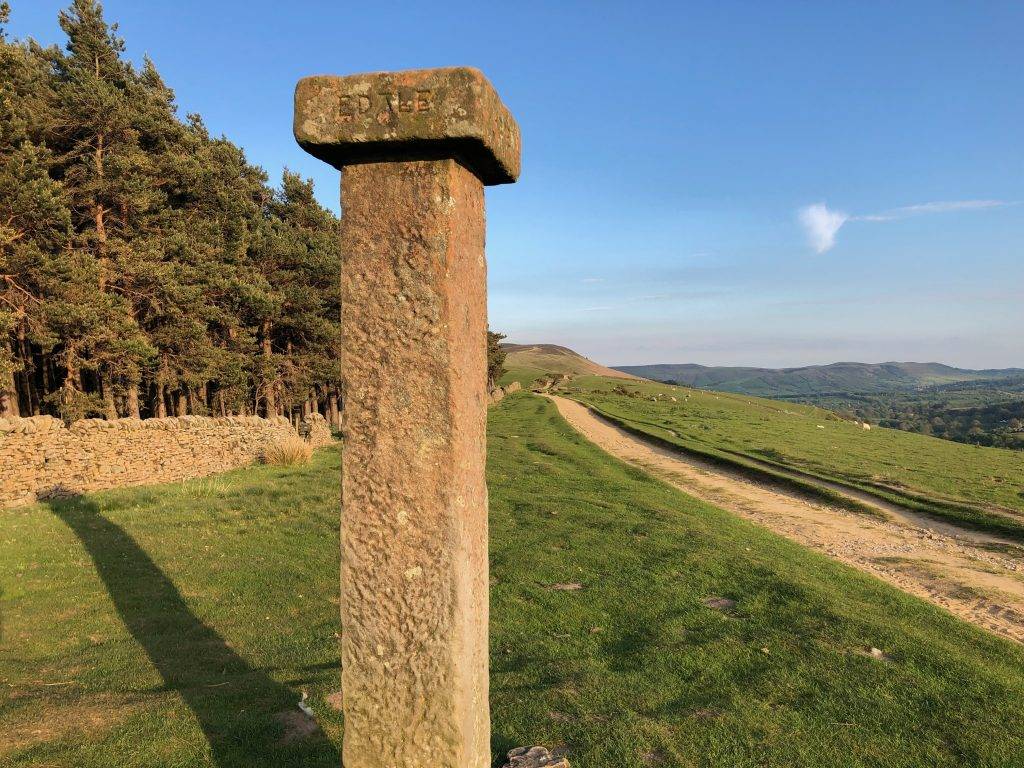 It is a medieval marker for the junction of various tracks. Here you can see the Roman road to the right, which I followed for some distance. It gradually rose, and eventually I got to the top of Win Hill, which is 462m high and affords wonderful views over the surrounding countryside, towards Hope in one direction, and the reservoirs in the other.
Everyone I met was enormously friendly. Very often I was giving advice, as I seemed to be the only person walking with a map hanging round my neck, and somehow Google doesn't quite cut it. I sat against a drystone wall to have my lunch.
For those of you not familiar with Derbyshire, this perhaps deserves explanation. It is an amazing technique of wall building without using any cement or mortar. The stones fit in together. Most of the stone is the local millstone grit, hence the greyish colour. It has now received acknowledgement from UNESCO as a traditional and skilled craft. The moors of Derbyshire are criss-crossed with these walls.
Coming down from Win Hill to the reservoir was very steep, and I was warned by some cyclists that mountain bikers hurtle down the track at high speed "so watch your back!" From the top I watched a couple racing down, bounding over rocks and falling into potholes. I guess it's all part of the thrill. I went at a far more sedate pace, but was pleased to have notched up 7 miles on my round trip. Rod had a more disappointing day, as the trout were not biting. Mind you, no one caught anything, so no need to feel frustrated.
For the record: Emily and I swimming in the R Derwent. As Ladybower was 12C today, the river must be the same. I think I am just about OK in double figures: less than that is severely chilly.
I used to play this, rather more slowly. Daquin "The Cuckoo."